JII Learning Circle – Research and Study group
Join JII members who will regularly get together to share their research and best practices. Each meeting we discuss a different theme presented by a JII member. A great chance to broaden stay on the cutting edge of research and practice. For details see below.
To join or for more info: Contact Joseph or Hanna at events(at)japanintercultural.org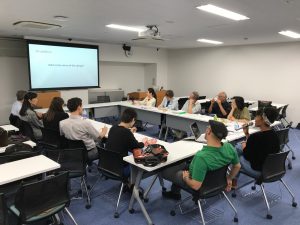 Next Meeting
February 8 (FRI), 2019
Where: Juntendo University Ochanomizu campus
Title: 
Facilitator: Roxana Sandu
Description:
Facilitator Bio: 

To join or for more info: Contact Joseph or Hanna at
events(at)japanintercultural.org
Previous Meetings
January 12, 2019
Title: Welcome to the Pelican family! Simulating an intercultural encounter in your classroom
Facilitator: Bruno Jactat
Description: In this JII Learning Circle, hands-on activities and praxis related to intercultural education will be our prime focus. During the first part, participants are invited to immerse themselves in a brief welcoming ceremony held by a family from a unique cultural heritage. The debriefing will allow for much discussion about what was experienced and how this simulation can relate to real world intercultural contacts. And once you have experienced this activity, you will be able to reproduce it in your teaching environment.
In the second part we will show how we are implementing such simulation activities during the Intercultural Sessions held at the University of Tsukuba, activities in which both Japanese and foreign students participate together. Finally, we will showcase some of the work done recently to provide teachers with downloadable ready-made material and activities to be used in your intercultural class through the JALT ICLE SIG (Intercultural Communication in Language Education Special Interest Group).
Facilitator Bio: After his return to France from a one-year exchange program in Wisconsin, USA, Bruno served as regional president of the Loire Valley AFS (American Field Service) association from 1986 to 1991, coordinating the departure of numerous young French teenagers abroad and the hosting in the region of as many foreign youngsters. In 2003, he received a prize from UNESCO Japan for implementing online exchange programs during the previous 7 years between primary school kids from Japan and 7 other countries. Today he continues to raise university students' awareness to intercultural issues through various events such as the Intercultural Sessions at the University of Tsukuba where he currently teaches French.
November 2, 2018
Title:  Culture in Language Teaching—Ideas and Activity Sharing
Facilitator: Joseph Shaules
Description: Many language teachers are interested in intercultural issues, but may be unsure of what activities are effective. In November's Learning Circle, we invite you to share and discuss the culture-related activities you use. We will start with an overview of some basic questions about culture in language education: How are language and culture connected? What are the goals of cultural learning? How can we talk about cultural difference? What about low-level learners? Participants will then share their activities, ideas and experience. The emphasis is on being inspired by each other's creativity! You can introduce what you do, or simply learn from other members.
September 7, 2018
Title: Culture (Shocking) your Students : Pedagogical Considerations for Intercultural Communication Education
Speaker: Javier Salazar, Ph.D.
Description: A lot has been written about Intercultural Communication Competence (ICC) models for language education, but little has been done in terms of how to translate this seemingly complex topic into the classroom. In the Japanese EFL education context, this gap between theory and practice is further expressed in the relative (and alarming) lack of available IC textbooks that approach the teaching of this subject in a way that takes into account the particularities of Japanese students ( i.e their general communicative skills and overall attitudes towards EFL education). In this presentation, I will tackle this difficulty by explaining a three-pronged IC teaching approach that is based on: a) A communicative approach where students' strategic and discursive competence development is paramount for scaffolding the next two prongs ; b) A view of IC education that is concentrated on praxis as opposed to theory and c) The combination of Active Learning, Transformative Learning Theory and Embodiment Theory in order to develop a sense of an Intercultural Self in the EFL student. As a means for illustrating this approach, specific IC lesson plans that take into consideration the abovementioned will be described. As a result, participants will be able to see and judge by themselves how this approach facilitates the emergence of resistance ( by first "culture shocking" the students) and subsequent engagement (by also "culturing" the students).
Speaker bio: Javier Salazar is currently a lecturer in at the Kanda Institute of Foreign Languages and Tohoku University. His academic background is in Social Psychology, Cultural Anthropology and Human Informatics and his research interests gravitate towards Intercultural Communication Pedagogy, Communicative Competences Teaching, Gamification in EFL education, Humor in the EFL Classroom, EMI and CLIL.
July 6, 2018
Title: Incorporating Culture in ELT to Enhance Japanese College Students' L2 vision as intercultural speakers
Speaker: Harumi Ogawa, Ph.D
Description: Harumi will present an exploratory practice (EP) project conducted at a two-year college situated in the area severely affected by the March 2011 earthquake. An EFL course was specifically designed to enhance the students' future visions of themselves as L2 users (Dörnyei & Kubanyiova, 2014). Harumi will discuss the findings by 1) tracing the trajectories of L2 learning and intercultural experiences of selected interview participants, 2) examining group dynamics and pedagogy adopted for the course, and 3) piecing together an understanding of the role that the teacher played in mobilising one focal participant's future vision.
June 1, 2018 
Title: Motivated Empathy and the Willingness to Change: Implications for Intercultural Adaptation
Speaker: Hanna Chouchane
Description: When talking about expatriate adaptation, the bulk of the literature is centered around a sojourners ability to efficiently function in a different environment. In particular, authors are generally guided by the concept that cultural empathy (an increase in which facilitates adaptation) is an ability that one possesses or lacks. However, adaptation defined by Shaules (2007) as "allowing for change in oneself as a response to adaptive demands from a different cultural environment" is "limited by one's ability or desire for change"; a point not often talked about. This study examines the role of motivated empathy in a sojourners willingness to adapt.