JII is supporting an ongoing Japanese Ministry of Education (MEXT) funded research project related to the psychology of language and culture learning. See description below. We welcome participation in this project through an online support group, workshops, and data gathering. Please contact Joseph Shaules for more information (shaules ( at ) keio.jp).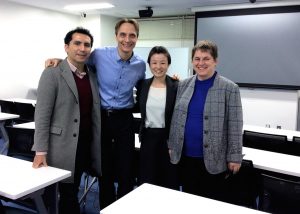 Research title: Linguaculture Resistance and its Effects on Learner Motivation
Researchers: Joseph  Shaules, Gabriela Schmidt, Rob Fritz, Sumiko Miyafusa
Description: This research project will measure and analyze psychological resistance towards language learning. Existing scholarship shows that negative learner attitudes are common, yet seldom focuses on the psychology of resistance. Drawing on research into intercultural adjustment theory, this research seeks to understand patterns of resistance, who or what learners blame for their negative experience, and the impact of resistance on motivation. It hypothesizes that learners blame themselves for failure and are often not fully aware of resistance. Understanding the psychology of resistance is seen as an important step towards developing pedagogy that motivates learners. This research will be used in teacher education.
This research will measure and analyze resistance to foreign language learning, and educate teachers about how to reduce resistance. The research introduces a new conceptual approach to SLA research–linguaculture resistance–a term that originates in intercultural adjustment research. Unlike SLA scholarship that treats negative attitudes as a sign of learning failure, this approach treats negative reactions as a normal part of the learning process. This research will show how learner resistance contributes to unconscious critical self-judgment, and how this leads to a loss of motivation. When teachers see demotivated learners as failed learners, they give up on them. This research seeks to change that by showing clearly the internal psychology of demotivation. The researchers will offer presentation, seminars and publications to help teachers reduce linguaculture resistance.