What people are saying: Delving deeper into culture and challenging my intercultural understanding with a cohort of global experts is what I found so enriching. It was a challenging course and just what I needed this semester….an oasis in which I could explore deep culture for myself in new ways and truly challenge myself.  . . . one of the real highlights for me in 2020!
Jillaine Farrar, lecturer at the Lucerne University of Applied Sciences and Arts-Business, and SIETAR Switzerland VP
The Brain, Mind & Culture (BMC) Masterclass is a blended learning course (webinar-podcast-online learning) that introduces the latest insights of culture, brain and mind sciences to those living and working interculturally. You will gain a deeper understanding of the psychology of intercultural experiences, including: culture and cognition, biases, and deep culture learning and transformation. There is a focus on the personal growth that can come from intercultural experiences—traveling, working or living abroad, or in a multicultural context, learning a foreign language—and the challenges of bridging different cultural worlds. You will learn to be a more insightful interculturalist and learn how to encourage intercultural learning in others.

Is this Masterclass for you?
The BMC Masterclass is meant for anyone who wants to deepen their understanding of the interrelations between brain, mind and culture. You either work as a trainer, educator, coach, mediator, you are a manager leading a multicultural team or an HR consultant dealing with cross-cultural challenges at the workplace, and/or you have experienced the challenges of global living yourself. Participants have the option of acquiring a Certificate in Deep Culture Learning.
Who are the trainers?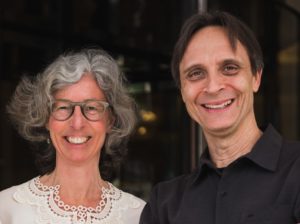 The BMC Masterclass was developed by Joseph Shaules, in collaboration with Yvonne van der Pol. Joseph is recognized as an authority on intercultural education and brain-mind sciences. He is author of multiple books, including: The Intercultural Mind (Intercultural Press), Deep Culture (Linguaculture Matters), and Language, Culture and the Embodied Mind (Springer), and director of the Japan Intercultural Institute. Yvonne is an intercultural trainer, coach and consultant, a board member of SIETAR Europe and is the author of Reflections on Intercultural Craftsmanship (2017).
Joseph Shaules (PhD). Professor, Author and Director of the Japan Intercultural Institute
Yvonne van der Pol. Sociologist, Author, Intercultural Trainer and Board member of SIETAR Europe
How is the course structured?
The Brain, Mind and Culture Masterclass runs over a period of two months and consists of A) three pre-webinar podcasts, B) four interactive webinars, and C) an online interactive learning environment, D) an (optional) certification program with one additional webinar session.
Course content
A) Pre-webinar Podcasts – Three pre-webinar podcasts provide background and prepare you for the webinars and online learning. They focus on:
The Why of Deep Culture Learning
The Challenges of Intercultural Communication
New Paradigms in Intercultural Understanding
B) Interactive Webinars – The in-depth and interactive Webinars focus on four major themes:
Culture from the brain-mind perspective
The first webinar starts with the key question 'Why do interculturalists need to understand brain and mind sciences?'

You will see how cognitive psychology and cultural neuroscience is changing our understanding of culture and mind. You will learn about new ways to research cultural difference, and how insights from brain-mind sciences can be applied to intercultural educational and training.

Culture and the intuitive mind
'How does culture shape our unconscious mind?'

is the main question of the second webinar. You learn about dual-processing models of cognition – the conscious thinking and problem solving of the

attentive mind

as well as our unconscious 'autopilot', or

intuitive mind

. You will learn how intercultural experiences can impact your mind in deep ways, and you will take part in a deep culture awareness activity.

Culture and the architecture of bias
The third webinar focusses on the question 'Are human beings naturally biased?'

You will learn about cognitive architecture of bias – the ways in which bias is built into our mental systems. You will learn that it's impossible to go 'beyond' your cultural conditioning, and that gaining deep intercultural understanding requires a process of inner transformation and deep forms of empathy.

Culture and deep learning processes
This last webinar in the series digs into the question 'How do intercultural experiences transform us?'

You will learn about the psychology of intercultural adjustment. You will see that foreign experiences are cognitively demanding. These adaptive demands can lead to growth and increased empathy, but also can trigger psychological resistance. You will learn how to distinguish between surface and deep intercultural experiences and practice identifying common patterns of adaptation and resistance.
C) Online Interactive Learning Environment
Throughout the course, you will exchange with other participants, contribute your experiences and insights regarding intercultural learning, and share multiple perspectives on the topics we are learning about.
Certification (optional)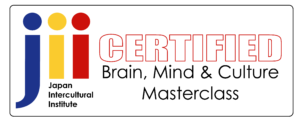 Participants can earn the Brain, Mind and Culture Masterclass Certification, issued by the Japan Intercultural Institute. Certification requirements: 1) Participation in 4 BMC Masterclass webinars + 1 additional certification webinar, 2) Completion of 4 online learning activities, 3) Passing an evaluation of your understanding of course content. There is an additional fee of €40 for the certification option.
Webinar dates and times (2022):
Feb 11,  21:00-22:30* Tokyo** (7:00 New York / 12:00 London / 13:00 Paris / 17:30 Delhi)
Feb 25, 21:00-22:30 Tokyo

 

(7:00 New York / 12:00 London / 13:00 Paris / 17:30 Delhi)
Mar 11, 21:00-22:30 Tokyo (7:00 New York / 12:00 London / 13:00 Paris / 17:30 Delhi)
Mar 25, 21:00-22:30 Tokyo (8:00 New York / 12:00 London / 13:00 Paris / 17:30 Delhi)
Apr 8**, 21:00-22:30 Tokyo (8:00 New York / 13:00 London / 14:00 Paris / 17:30 Delhi)
*Webinars last 90 minutes but there is an optional open discussion period for 20-30 minutes afterwards.
**Webinars start at 21:00 JST (Tokyo time). Starting times in some other cities will vary depending on summer/daylight savings time.
*** The April 8th session is only for participants who have signed up for the certification.
Cost
Your investment is €340 for the full course.
Early Bird € 290 if you register by January 15, 2022
Certification option = + €40
 What does this include?
3 Deep Culture Podcasts
Podcast transcripts (PDF)
4 Interactive Masterclass Webinars
4 Webinar Recordings
4 Webinar Slidesets for your use
One-year membership in JII (¥5000 / €40 value)
Access to our online learning community 
Access to JII Members-only events (e.g. Learning Circle)
For more information, contact us