Hello friends of JII
Here in Tokyo, we've had unseasonably warm weather, as well as a recent typhoon. After the terrible destruction of hurricanes in the Caribbean and Gulf of Mexico, however, it seems very mild. I was in Bali this August, and enjoyed perfect weather there. I also met with friends. I've put a photo of me playing chess with my friend Dan (I lost!). Some of you may remember Dan from chapter two of my book The Intercultural Mind.  Dan was raised in rural Bali, yet works as a snorkelling guide and has friends from all over the world.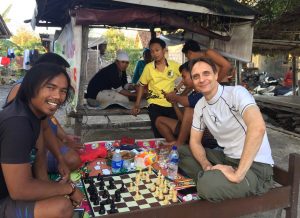 Meanwhile, back in Tokyo, JII has the following events coming up. We'd love to see you there:
I am also putting together a two-day workshop on Culture, Brain and Mind. That will be held in Germany next February. I will send more details as they become available.
Take care and all the best with your international living!
Joseph
Joseph Shaules – Director, Japan Intercultural Institute